HIGH BANDWIDTH DEDICATED SERVERS
Unparalleled speed and uncontended bandwidth. Now offering up to 50 Gbps
dedicated servers in several of our data centers.
COLOCATION AVAILABLE IN 3 ADDITIONAL LOCATIONS
We now offer colocation at our data centers in New York City Metro, Los Angeles and London.
Your privately-owned servers and equipment, secured in our top-tier data center.
Become a partner today
Learn about the exclusive benefits for your business
when you join the ServerMania Preferred Program.
Bare Metal
Dedicated Servers
A single tenant, physical server allowing you full access to its resources.


Optimal for high-performance workloads that demand optimal IO performance, large amounts of memory, or heavy-duty processing.
DISCOVER DEDICATED SERVERS
Professional-grade
Hybrid Servers
Virtualized server platform hosted on enterprise-grade physical servers.


Optimal for almost any project: testing and dev servers, web hosting servers, backend servers for mobile applications, digital media companies.
DISCOVER HYBRID SERVERS
Scalable
Cloud Servers
High-performance and highly-available infrastructure, delivering a reliable, secure, and scalable solution.
Optimal for any evolving business, who want an affordable solution to scale at ease in order to tackle any kind of workload or project.
DISCOVER CLOUD SERVERS
ServerMania Hosting Empowers
Our Global Network of Data Centers
A Server Company Empowered By Passionate Experts
TICKET RESPONSE TIMES
Under 15 Minutes
Our team is expertly trainer in delivering the best customer experience possible.
SUPERIOR SUPPORT
24x7x365
Our multilingual team has the expertise to assess the needs of each customer and build a custom solution.
FREE EXPERT
Consultation
Get a custom server solution developed specifically for your project.
Request a quote
or chat with an expert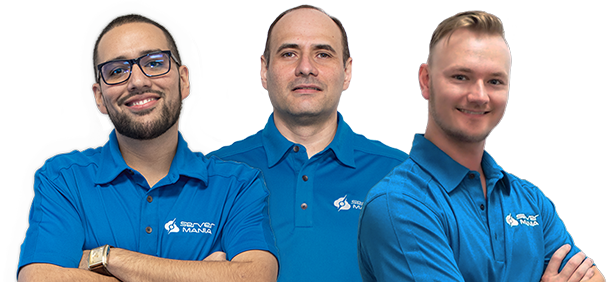 Empowering Thousands Of Brands Of All Shapes And Sizes

Case Study
Comodo leverages ServerMania infrastructure and support for business-critical operations.
See how Comodo uses ServerMania's global network...
as an alternative to cloud
to reduce infrastructure costs
to bring products to market.
VIEW THE CASE STUDY
Client Testimonials

"At Multiplay we bring people together, and with Server Mania providing great quality network and hardware for our game servers we're able to do exactly that, all up and down the East Coast."
CEO - MULTIPLAY
About ServerMania
ServerMania is a Canadian company with over a decade of experience building high-performance infrastructure hosting platforms for businesses globally. We offer a wide range of fully customizable dedicated, hybrid, cloud, colocation and IP Transit services. Our mission is to empower clients by equipping them with fast, reliable, innovative infrastructure hosting while upholding a 100% network uptime SLA. This is assisted by a 24x7x365 rapid response team — one with some of the best response times in the industry.