Managed vs. Unmanaged Server Support
When you deploy a new dedicated or cloud server, there are two options available as far as server management – managed and unmanaged servers.
It can be confusing and frustrating for server owners to understand what level of support they can expect to receive from their server provider's support team. At ServerMania, we're committed to delivering servers at affordable prices and with a 24×7 support team to assist you. Delivering affordable servers means that our scope of support is unique depending on the plan you select.
In this article, we cover managed vs unmanaged servers so you can understand what to expect from your server provider.
What is an unmanaged server?
An unmanaged server means that all server administration and management is completely up to you. By default, all ServerMania servers are unmanaged and that is what allows us to deliver dedicated servers as low as $50 per month.
With an unmanaged server, you are expected to perform all server activities yourself, including installing software, managing backups, updating the OS, or anything else that involves logging into the server. With an unmanaged server, you are also responsible for managing your own software and server security. If you run into an issue installing or configuring a piece of software on an unmanaged server, its up to you to solve the problem or contract a server administrator who can help.
As far as uptime, you are responsible for setting up your own server monitoring tools. We monitor our network connections for uptime, but do not place any monitoring to ensure the uptime of your server. This is because we do not have access to intervene during an outage, and we also don't know when you may have purposely shut down your server.
Is an unmanaged server the same as a self-managed server?
Yes, both of the term unmanaged and self-managed mean the same thing. In each case, you or someone in your company is responsible for managing the server and ServerMania is responsible for ensuring network / power uptime as well as having staff available to assist with hardware support.
What level of support can I expect from an unmanaged server?
Even with an unmanaged server, you are not completely left alone as far as server management.
With an unmanaged server, we still help get you started by installing the selected Operating System you chose during checkout.
If you ever experience issues with server hardware or performance issues which may be related to failing hardware, we are able to help investigate and replace the impacted hardware.
As well, if you experience any issues with network connectivity, we can help troubleshoot and diagnose these issues with our upstream providers.
Tools For Managing Unmanaged Servers
We provide the tools you need to manage an unmanaged server yourself. In our Surge Control Panel, you have access to the KVM console in order to connect directly to your server if it is inaccessible via SSH. This panel also gives you access to manage power to the server and view bandwidth usage.

Our Knowledge Base contains tutorials on aspects of managing your server, and we add new articles to this site regularly.
What is a managed server?
A managed server is a type of server where certain server management functions are performed by the ServerMania team. While you are still responsible for actually using the server and configuring third-party software, our team monitors the server for uptime, intervenes during an outage, and helps to maintain server security by conducting updates.
See Also: ServerMania Managed Servers
What services are provided with a managed server?
At ServerMania, we offer three server management plans: Essential, Empowered, and Custom.
The Essential plan is $39.99/month per server and includes real-time server uptime monitoring and human intervention in the event of the outage. All other server administration is up to you.
The Empowered plan is a complete server management solution for $119/month per server. Including proactive monitoring, security management, and unlimited support requests, this is the perfect choice for businesses looking for a comprehensive and experienced server management team.
We also are able to offer custom management plans for certain unique requirements. Contact our sales team to iniquire further about this plan.
For more details on the exact listing of services provided with a managed server, visit our managed services page.
What does server management not include?
Generally speaking, server management does not include the installation and configuration of third-party software outside of the control panel installed on the server. With a vast array of software available and each piece of software requiring unique expertise, it is not feasible for us to manage these applications competently and consistently. Our team will provide our best effort to help when we can, though.
Backup management is also not included in our managed services plans. We can help setup and configure backup using the ServerMania Cloud backup platform, but monitoring successful backups is up to you.
Who can help with third party software installation?
If you're unable to install or configure a third-party software yourself, your first step should be to use a search engine to see if their is a support community available who can help. In many cases, there will be a community of people who can help you navigate any initial challenges you may be facing.
If this is not sufficient, or you need more hands on help, you could hire a server administrator experienced in that software to assist you. Upwork and Freelancer.com are popular sites that people use to hire freelancers to assist with their servers, however ServerMania can make no guarantees about how these sites may work for you.
Available Server Management Plans
We have three server management plans available as an addon to an external server, or available during checkout on any ServerMania Dedicated Server: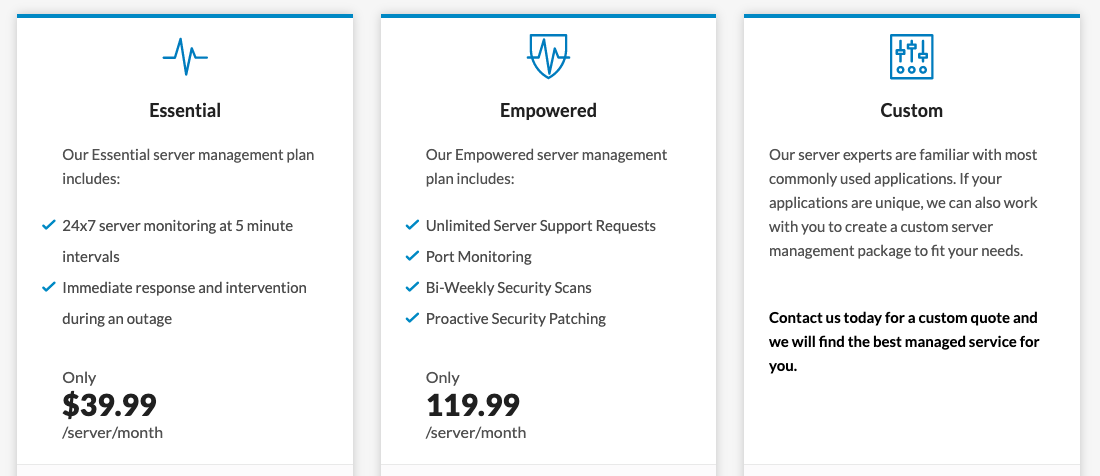 Next Steps
If you're interested in deploying a managed or unmanaged server, contact our sales team for a custom quote. We can help you select the right server for your needs at the best price.
Check out our Knowledge Base for other useful articles on server management.