Plesk vs cPanel – What's the Difference?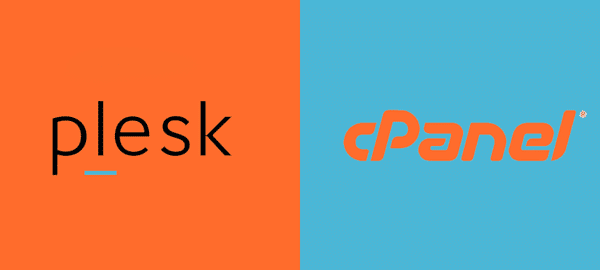 cPanel and Plesk are both incredibly popular options for web hosting control panels. They give end-users the ability to manage their website hosting experience, including setting up emails, creating FTP accounts, etc. Each web hosting control panel has its own advantages and disadvantages.
Providing your own shared, reseller, or VPS hosting is a great business these days. More and more businesses are shifting online, and these customers need a control panel to manage their hosting through your services. cPanel and Plesk are two options for you to consider.
In this article, we'll compare Plesk vs cPanel so you can make an informed decision when choosing your next web hosting control panel.
See Also:ServerMania Cloud Hosting
What is Plesk?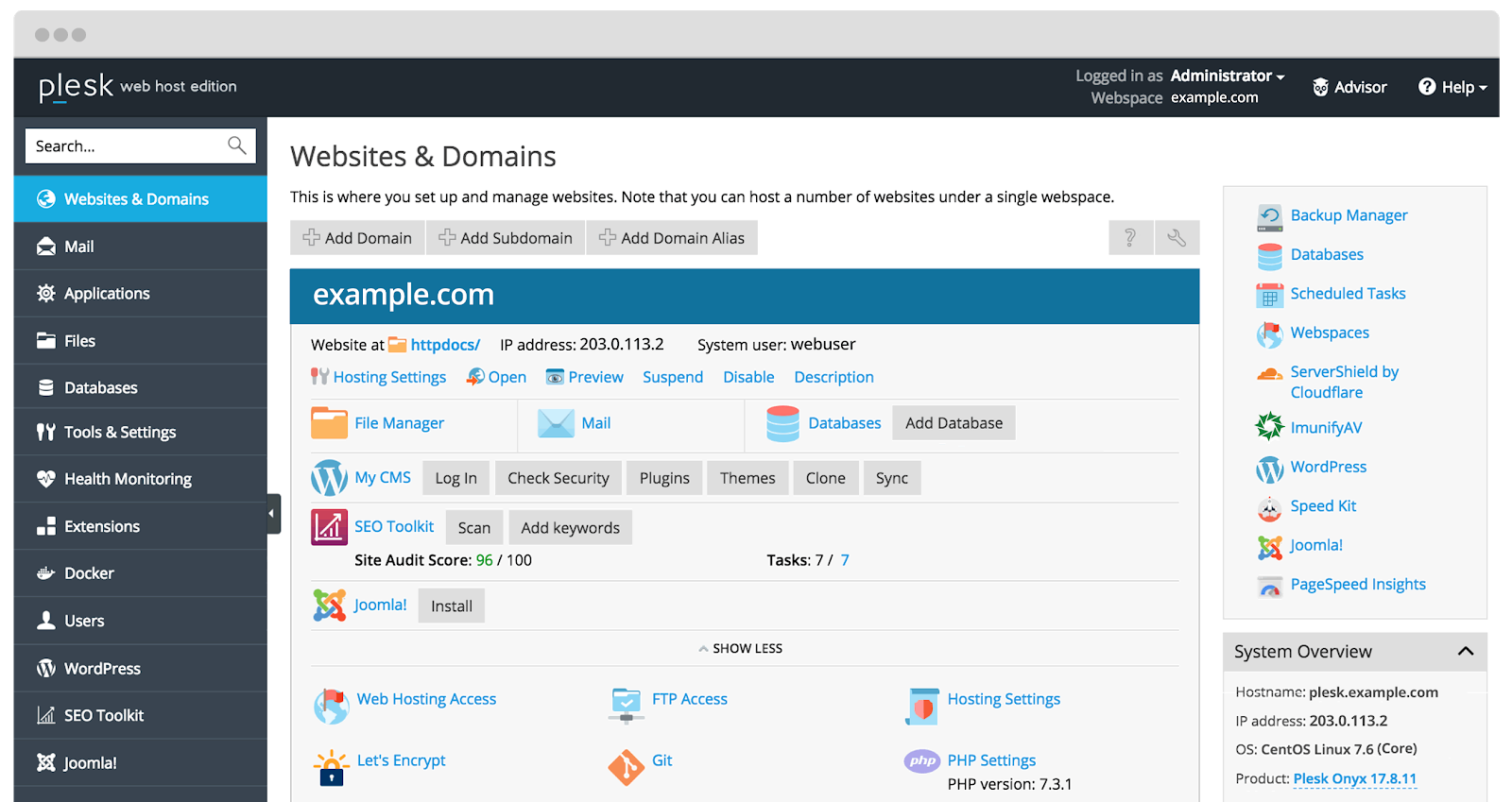 Plesk has been a leader in the control panel industry with over 10 years in the market making it easier for managers and administrators to provide web hosting to clients. Due to their easy-to-use interface and wide array of tools, administrators can deal with their servers more efficiently.
Plesk Onyx, for example, is accessible in Windows and Linux and is intended to work in the background, overseeing system management and doing so as inconspicuously as possible. It's designed to deliver performance while being as unobtrusive as it can. Furthermore, the compatibility of Plesk across different Operating Systems is also a key asset of the web hosting control panel.
How much does Plesk cost?
The Plesk hosting control panel price starts at $15 per month for 10 domains. For 30 domains, it is $20 per month, and for unlimited domains it is $45 per month. This price is on a per server basis and you would need a plesk license for each server running the panel.

Plesk Key Features
The Plesk control panel features a variety of great features. Here are just a few:
Virtual Server Support
Plesk supports a number of virtual server platforms including:
VMware
XEN
Parallels Virtuozzo Containers 4.6 for Linux
Parallels Virtuozzo Containers 4.6 for Windows
Parallels Virtuozzo Containers 4.7 for Linux
Virtuozzo 6 for Linux (Parallels Cloud Server 6)*
Virtuozzo Containers 6 for Windows (Parallels Containers 6 for Windows)
Virtuozzo 7 for Linux
OpenVZ
KVM
Hyper-V
LXC (Docker)
Extension Catalog:
Plesk bundles the WordPress Toolkit SE as well as countless extensions to extend the functionality of the panel.
Email Management:
Premium Email Service, and encryption service ensures that file management is safe and secure for the Plesk users.
Domain Management:
Users receive access to a complete domain management system, including a built-in website builder.
What is cPanel?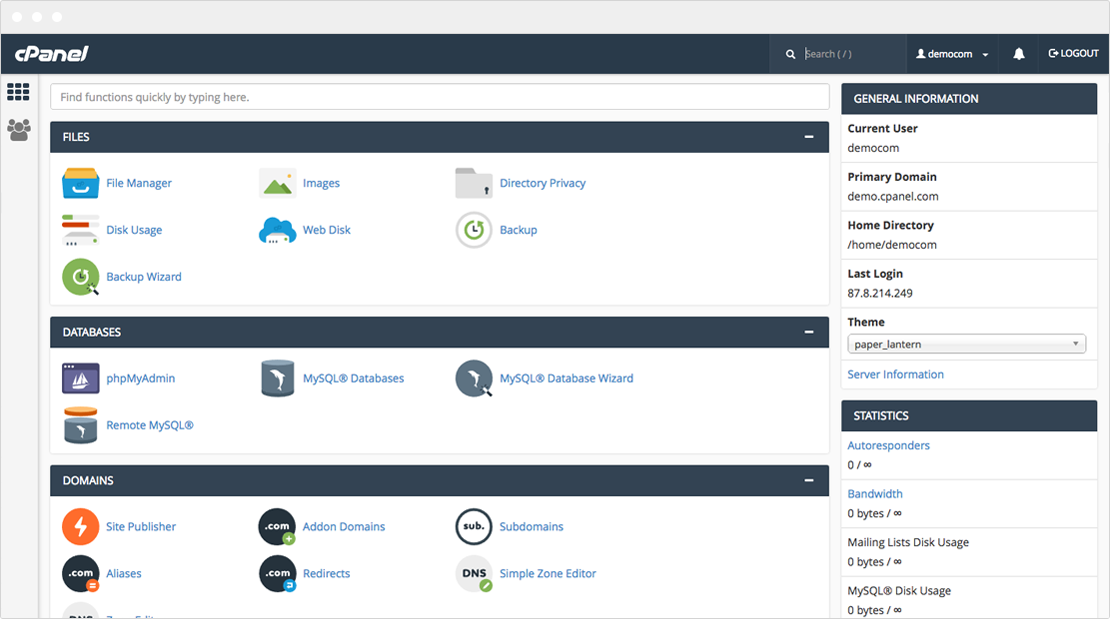 Launched in 1992, cPanel is the direct competitor of Plesk in pricing as well as in features. Both the pricing model and feature set of cPanel is very similar to Plesk, so it's a difficult comparison to make amongst the hosting control panels.
The cPanel and Web Hosting Manager (WHM) platform are designed to create an exceptional hosting experience, with industry-leading support available. It contains powerful tools for both control panel users and system administrators, but it's locked to only working on the CentOS operating system.
How much does cPanel cost?
cPanel licensing starts at $15 per month for a Hybrid or Cloud server with up to 5 domains. The price increases from there based on the number of domains on the server:
Pricing for Dedicated Servers:
1-100 accounts – $32.00/mo
Accounts above 100 – $32.00/mo + $0.13 per additional account/mo
Pricing for Hybrid Servers:
1-5 accounts – $15.00/mo
6-30 accounts – $20.00/mo
31-50 accounts – $26.00/mo
51-100 accounts – $32.00/mo
Accounts above 100 – $32.00/mo + $0.13 per additional account/mo
See our article on cPanel pricing to learn more.
cPanel Key Features
Email Accounts Management:

cPanel provides a comprehensive email accounts management platform and gives users and administrators complete control over email management including account creation, spam control, etc.
File Management:
Users have access to complete file management of their account, including a graphical file management system as well as FTP account access.
Domain Management:
cPanel delivers individualized site control through the ability to add domains, subdomains, and manage redirects.
Addons:
Like Plesk, cPanel is supported by hundreds of addons like Softaculous to add on one-click script installations or Acronis backups right into cPanel.
Plesk vs. cPanel Feature Comparison
| cPanel | Key Features | PLESK |
| --- | --- | --- |
| 5 / 5 | Popularity | 3.5 / 5 |
| 4 / 5 | Security | 4 / 5 |
| 5 / 5 | Ease of Use | 4.5 / 5 |
| CentOS Only | OS Support | Wide Linux and WIndows Support |
| $32 + 0.15 per account over 100 users. | Price | $15 to $45/month |
Usability
Some clients favour Plesk over cPanel for its tidier GUI, which makes it less difficult to navigate and more intuitive to utilize. Its methodology is to sort activities into categories on the screen so users can navigate based on their needs.
cPanel's design methodology originates from a toolshed approach without the organizational nature of Plesk. However, its interface can be customized to your needs or using a company template to make navigation better.
Security
The two control panels both boast an assortment of features intended to make servers impenetrable. We are not aware of any significant differences in the security approach as both panels are actively developed. However, as you are relying on a commercial panel that is subject to exploit, you are exposing yourself to slightly higher risk with either panel.
Supported Distros
Plesk runs on both Linux and Windows Server, while cPanel is a Linux-exclusive. CentOS, CloudLinux and RedHat Enterprise Linux are the main OS manifestations supported by cPanel. Conversely, Plesk works with 14 Linux distros that incorporate Debian, CentOS, and Ubuntu.
Dashboard — cPanel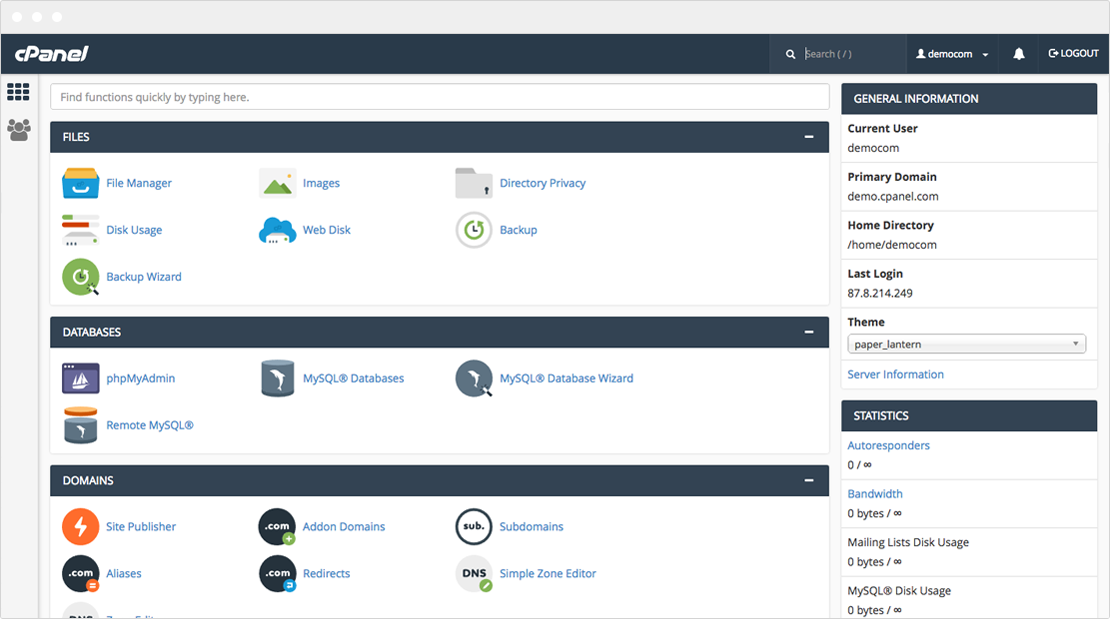 The cPanel dashboard is completely adjustable for facilitating organizations and resellers who might want certain highlights featured for their clients. The interface has been redesigned a couple of times throughout the years, with modernizations and upgrades to make it look cleaner, rendering it more efficient.
The dashboard is partitioned into a few areas, for example, Files, Databases, and Domains. This format may look a bit intimidating at the outset, however it's simple to find what you need.
Dashboard — Plesk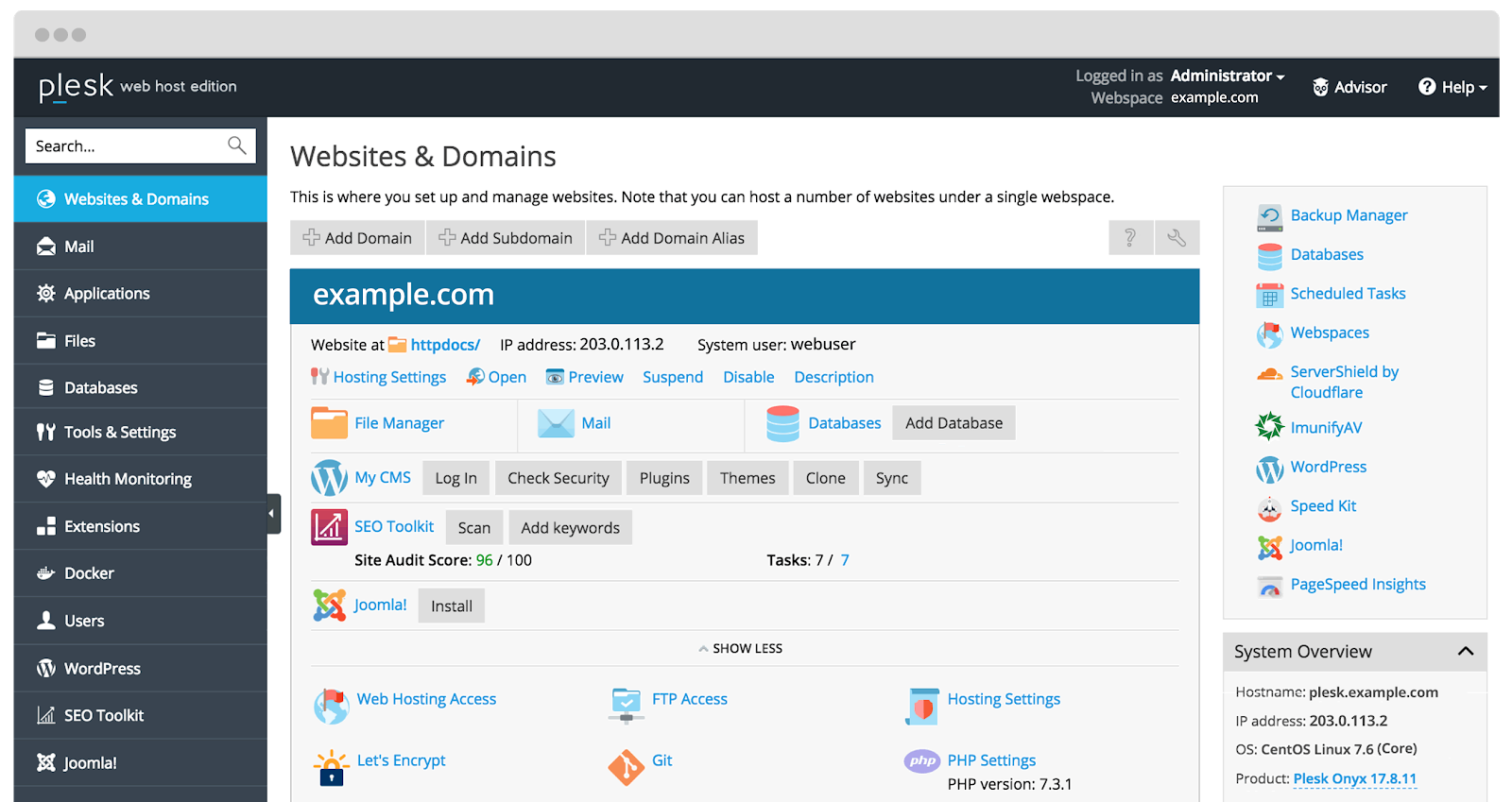 Plesk adopts a unique strategy with regards to dashboard plan. It looks fairly similar to WordPress for those who have used it.
It has a left-hand navigation on the dashboard so users can easily move around the interfaceL
Overall Feature Comparison
Things being what they are, where do Plesk or cPanel rank as far as their best features are concerned? Plesk and cPanel give customers easy ways to oversee every aspect of their hosting experience. Clients can arrange DNS settings, change email records and manage databases. What's more, they additionally get FTP (File Transfer Protocol) access and other file management functionality.
Which is better, cPanel or Plesk?
Both cPanel and Plesk are great options when reviewing web hosting control panels. Both panels have established themselves as secure, reliable, and affordable solutions. In our opinion when comparing plesk vs cPanel, cPanel tends to see wider adoption in the industry and as such, it may be easier to find support staff and developers familiar with the panel. But Plesk beats cPanel on OS compatibility. Plesk can run a wide variety of Linux operating systems, while cPanel is only supported on CentOS.
Need help choosing a server for your next hosting control panel deployment? Contact us today for a free quote and we'll help you choose the right cPanel Dedicated Server or Plesk server at the best price.