What are the server requirements for Windows Server 2016?
While many servers today utilize Linux as their Operating System, there are still plenty of applications which are perfectly suited for Windows Server. Windows Server 2016 provides a light-weight graphical interface for individuals and enterprises running Microsoft based services.
Server 2016 of Windows Server is smaller, faster, and comes with new and upgraded features such as window containers, Hyper-v, windows defender, active directory domain services and so much more. However, you must meet the minimum requirements to be able to install and use it.
See Also: [thrive_2step id='2926′]2020 Small Business Server PRICING LIST (PDF)[/thrive_2step]
In this article, we'll outline the server requirements for Windows Server 2016 as well as our recommendations if you are looking to setup a Hybrid or Dedicated Server running Windows Server.
Windows Server 2016 Minimum Hardware Requirements
Processor: 1.4Ghz 64-bit processor
RAM: 512 MB
Disk Space: 32 GB
Network: Gigabit (10/100/1000baseT) Ethernet adapter, 1Gbps connection is ideal.
Optical Storage: DVD drive (if installing the OS from DVD media)
See Also: (Live Webinar) Meet ServerMania: Transform Your Server Hosting Experience
1. Processor
For you to run Windows Server 2016, you need a minimum of AMD64 or 1.4GHz EMT64 Processor.
Your processor must also be compatible with x64 instruction set architecture and should support security features such as Data Execution Prevention (DEP) and NX Bit.
It should also support CMPXCHG16b, PrefetchW, and LAHF/SAHF.
As well, it should support Second Level Address Translation: Extended Page Table (EPT) and Nested Page Tables (NPT).
2. RAM
The following are the minimum RAM requirements for this server:
512 MB and 2 GB for Window Servers that have the Desktop Experience feature
ECC type or a similar technology
If you create a virtual machine (VM) that has the minimum hardware parameters and then attempt to install WS2016 on the VM, the setup is likely to fail.
To avoid this, you can allocate 800 MB RAM or more to the VM you intend to install WS2016 on and run setup. Once the installation is complete, you can then reduce the VM's RAM to 512 MB.
You can also interrupt the booting process of Windows Server 2016 by pressing SHIFT+F10. In the CP (command prompt) that will pop up, you can make use of the Diskpart.exe command-line tool to create the desired installation partition. Then run the Wpeutil createpagefile /path=X:pf.sys (where X represents the installation partition you created).
After that, close the CP and continue with the installation process.
3. Disk Controller and Disk Space
Your disk controller should be PCI Express compliant.
You should also note that WS2016 does not support ATA/ IDE /PATA//EIDE for boot, page, or data. For Core installation, you need a minimum disk space of 32 GB.
Additional 4 GB is required for the installation of Graphical User Interface (GUI).
4. Network Adapter
Microsoft recommends the following minimum Windows Server 2016 system requirements:
A Gigabit adapter with 1 Gbps throughput
Your network Adapter Should be PCI Express Compliant
Your Ethernet Adapter should also support PXE (Pre-boot Execution Environment)
If your system meets these requirements, you can consider installing the revolutionary server.
5. Other Windows Server 2016 Requirements
If you intend to install WS2016 from a DVD media, you should ensure your computer has a DVD drive.
You should also have a UEFI 2.3.1c-based system, Graphic device, Trusted Platform Module, keyboard, internet access, and firmware supporting secure boot.
A Microsoft mouse and a monitor that has high-resolution can also help to make the installation process smooth and successful.
After installation, you need to gather some security tips to protect your Windows server.
Windows Server 2016 Recommended Hardware Requirements
Processor: 3.0GHz 64 Bit Processor
RAM: 8GB RAM
Disk Space: 32 GB
Network: Gigabit (10/100/1000baseT) Ethernet adapter, 1Gbps connection is ideal.
Optical Storage: DVD drive (if installing the OS from DVD media)
Based on our real-world usage of a GUI based Windows Server 2016 install, we'd recommend server specs above the bare minimum outlined by Microsoft. Memory usage in particular was closer to 1.5GB than 512MB.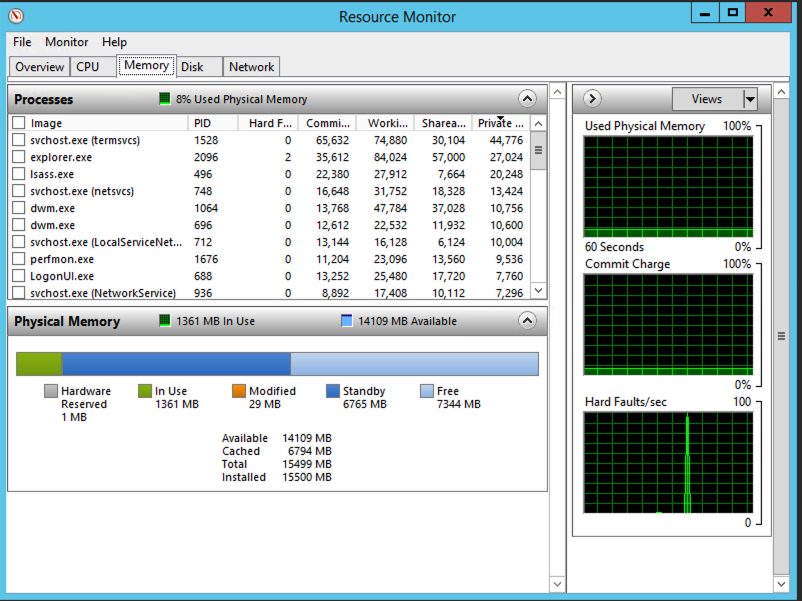 How much does a Windows Server 2016 Server Cost?
The cost of a Windows Server 2016 dedicated server ranges from $95/month up to $345 a month depending on your hardware requirements.
If you prefer to run Windows Server on a remote server for one low monthly fee, here are our recommendations for two Dedicated Serves which will meet the modest needs of many projects.
​
Small Dedicated Server
Large Dedicated Server
Specs
Intel Xeon 1240v3

4x 3.4GHz Processor

32GB RAM

500GB SSD

Intel Xeon-W 2145

4x 4.0GHz Processor

32Gb RAM

2x 500GB SSD

Cost
$95/month
$165.00/month
Order
Order Now
Order Now
Wrapping Up
Windows Server 2016 is easy to install and may meet your business needs. However, you need to ensure your system meets the Windows Server 2016 requirements highlighted above.
If you have relevant questions or are in need of a quote on your next Windows Server rental, book a free consultation today.